Baar Baar Dekho's lead pair Katrina Kaif and Sidharth Malhotra on why they chose the film with a unique subject and how they just hated each other to begin with.
When Baar Baar Dekho stars Sidharth Malhotra and Katrina Kaif walk inside a room, they look perfect together. Blame it on their amazing personality or ease in each other's company, everyone has their eyes fixed on them. From perfect clothes to perfect attitude, they look every inch the reflection of their characters – Jai and Diya from their upcoming film Baar Baar Dekho. The two stars who were in New Delhi to promote their much-awaited movie of the season, wore their best attitude as they fielded questions.
In an exclusive chat with indianexpress.com, Sidharth and Katrina talk about each other, their film, their director Nitya Mehra and their chemistry together. Oh wait, they gave us all the dope on their chartbuster song 'Kala Chashma' and how its shoot was not as easy-peasy as they made it look.
Sidharth Malhotra and Katrina Kaif had a love-hate relationship on the sets of Baar Baar Dekho. They fought a lot before they got comfortable with each other. The two heartthrobs are coming together for the first time and their amazing camaraderie is one of the high points of the film. But it wasn't like this always. Katrina joked, "We liked each other. In the middle, we starting fighting a little bit, and then we made up, and then we started fighting again… No, but we had a really great experience actually. " Sidharth cuts in, "Actually now we hate each other. We really don't like each other. Please write reports right now that we aren't getting along."
Produced by Karan Johar, Farhan Akhtar and Ritesh Sidhwani, Baar Baar Dekho is a romantic drama which unfolds through flashbacks and flash-forwards. The trailer suggests that the movie has a unique storyline and its makers have rejected reports that it revolves around time travel. In the words of Sidharth, "I know her since childhood. There is love, yet I don't feel like committing because I feel this is not the right time or I feel I need to prioritise my work. And at that time, I go on this journey where I get to see the future with my love right here and whatever happens. Do I change something about myself, do I learn something about my life, is the film called Baar Baar Dekho?"
So how did the two actors prepare for their roles for the story that spans over 30 years? They said the most difficult part was acting with prosthetics. But the film's director Nitya Mehra had done her homework and made them rehearse the intense scenes beforehand.
"Nitya had decided to do workshops. We were made to be put in the most uncomfortable situation, where you really have to trust the other person because you are really exposed, you are emotionally naked in front of the other person. That's a really hard thing to be but a very important thing to try and achieve when you are in a film together and especially a romantic film. I could see that Nitya had done all her homework. Her sense of aesthetics I really believed in, and which was something, you can almost say we matched minds. So we were pretty much on the same page from day one", Katrina explained.
We asked them what would they do if given a chance to go back in time, and change something about their past, and Sidharth was quick to reply. He said, "I would like to go back to the time when I was 18-19 and tell myself that I'm going to be launched by Karan Johar. I'd be much different and relaxed, don't need to struggle for those five years in Mumbai. I would want to change my Math exam marks in class 9th and just go and tell my mom that I do have a future. I want to keep going back and forth. It'll be cool actually".
The film's songs are already a rage. But its major hit 'Kala Chashma' is the dance anthem this year. Ask Sid how he managed to match steps with Kat, who is known for giving her best to every song she does, and stealing the limelight too. "Very difficult to match steps, to match positions. I think in front of her, for any guy, it's very difficult to concentrate. You start looking left instead of looking straight. And for her it was just not looking anywhere, just looking straight. She doesn't look left-right at all. So it was difficult to make her aware of that when she was doing that step, even I am next to her. 'Kala Chashma' had the maximum number of duet kind of dance steps. I've started enjoying songs much more now".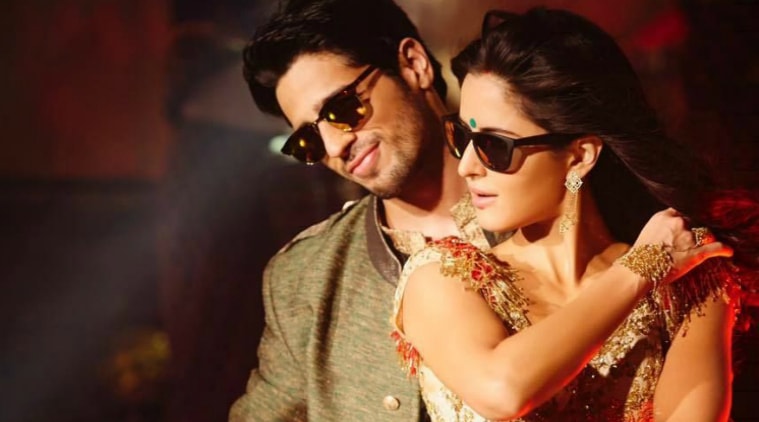 Baar Baar Dekho's song 'Kala Chashma' is Sidharth Malhotra's second chartbuster song this year, after 'Kar Gayi Chull'.
The sizzling chemistry of Sid-Kat has already earned them fans much before Baar Baar Dekho opens this weekend. The romantic drama offers something new in the genre. "A high concept, actors going into the future, a narrative which has never been seen before. We are here to create new and different content," says Sidharth.