Vinod Khanna has passed away, 27 April 2017 click here
Fans of Vinod Khanna are praying for a quick recovery for the ailing actor who was admitted to a Mumbai hospital due to severe dehydration.
A pale-looking Khanna in picture from the hospital went viral last week, breaking millions of hearts especially those of fans who have seen the dashing, handsome side of him.
However, Vinod Khanna's wife, Kavita Khanna is disappointed about his photos going viral and slammed the media for sharing them. She wrote:
STOP POSTING VINOD KHANNA'S PHOTOS. Please don't bother him. HE'S OUR HERO. LET HIM BE.
Here's a throwback picture of the actor, in which he can be seen walking towards the cricket field with his contemporary Amitabh Bachchan and what a sight it is.
Both Amitabh and Vinod are dressed in cricketing gear and it makes it hard to believe that the same man is so unwell today. However, it also teaches an evident lesson that everyone has to embrace the truth of life, which is that one day all of this would end, despite the glamour, money and all the worldly things. Amitabh and Vinod were Karan-Arjun of the golden era of cinema. Their presence in a film would make it a sure shot hit. The actors have worked together in several films, out of which Muqaddar Ka Sikander (1978), Amar Akbar Anthony (1977), Hera Pheri (1976) and Parvarrish (1977) are still considered blockbusters.
While Amitabh Bachchan has continued playing several impactful roles over the years, Vinod Khanna has been quite selective. His recent outings as an actor were — Dabangg, Dabangg 2, Ramaiyya Vastaviayya and Dilwale.
Check out the throwback picture: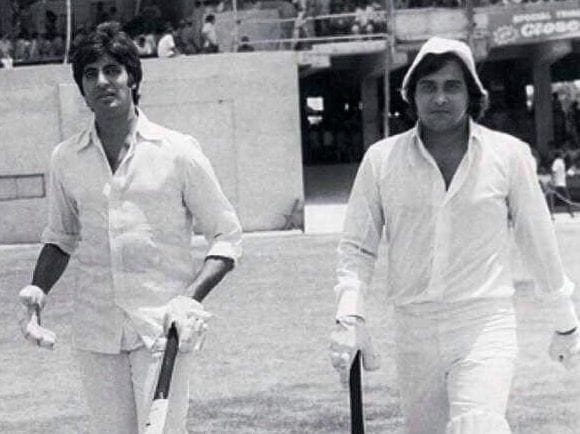 (Picture credit: Vinod Khanna's fan page on Twitter)
Vinod is under supervision in Mumbai's hospital. He is said to be suffering from acute dehydration. However, there was speculation that the star was diagnosed with bladder cancer. His family members — Rahul Khanna and Akshaye Khanna, have said that their father is on a speedy recovery. Even hospital authorities have said that the actor's health is showing improvement. Well, we too are hoping for good news soon.