In 2016, a CNN profile on Rajinikanth inadvertently mentioned him as a 'Bollywood star,' an error that sent the Tamil titan's native fans raging against the media house. The anger was directed at CNN's naïve ignorance. Was it justified?
Probably. Because Rajinikanth is Tamil cinema's tour de force and though, born Shivaji Rao Gaekwad in a Maratha family and named after Shivaji Maharaj, he never fully belonged to Mumbai and Bollywood. And yet, Rajinikanth, aka Thalaivar, has a strong Bollywood link which can't be wished away that easily.
His Bollywood stint may not have been hugely successful but the Mumbai years helped him gain a new lease of life in Tamil cinema and won him a lifetime's worth of friendship – and plenty of inspiration – with Amitabh Bachchan. Putting all questions to rest about the constant comparisons with Bachchan, Rajini once replied to a TV reporter, "In the cinema world, Rajinikanth is probably a king. But Amitabh Bachchan is the emperor."
The emperor and the king first came together in Andhaa Kaanoon in 1983. What makes Andhaa Kaanoon special is that it is Rajinikanth's Bollywood debut. It is a typical 1980s Bollywood potboiler starring Bachchan and Rajinikanth as vigilantes. United by a drive for revenge and disdain for the law, Bachchan and Rajinikanth expertly subvert the legal process right under the hawkish eye of a police officer played by Hema Malini.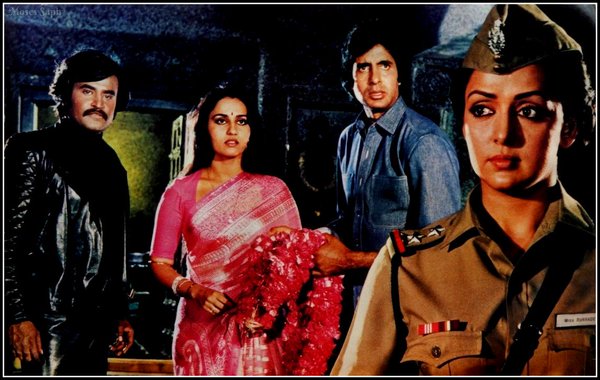 When Rajinikanth, after committing a series of murders, is acquitted by the court his partner-in-crime Bachchan breaks into a sly laughter, hinting at the irony that law is, indeed, blind. In his very first Hindi film, the future Thalaivar is called Vijay, a screen name usually associated with Amitabh Bachchan. On the other hand, Hindi cinema's original Vijay is named Jan Nisar Akhtar – and no, Javed Akhtar didn't write this script. The name Vijay was one in a long line of associations with Bachchan. There is a moment in Andhaa Kaanoon when Bachchan gives Rajnikanth a lift on his motorbike. It proved symbolic. "Thanks a lot," says Rajinikanth, in thickly accented English. "For what?" Bachchan asks. "For everything," comes the reply. Rajinikanth has a lot to thank Bachchan for. Rajinikanth started out in the Tamil film industry as a villain but in the 1980s, a shift occurred towards more heroic roles. The hits on which the Rajini brand was first built – Billa, Thee, Mr Bharath, remakes of Don, Deewaar and Trishul – were all Bachchan blockbusters, instrumental in making Big B a superstar.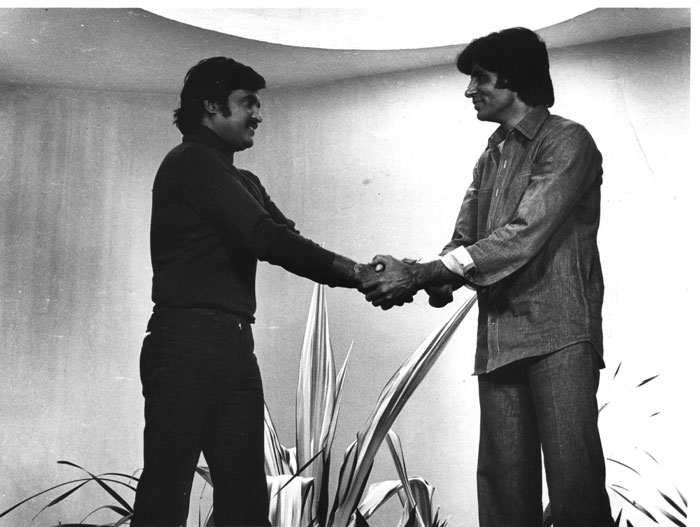 Interestingly, Andhaa Kaanoon also features the now-famous Rajini cigarette-flipping scene. The King of Style fights in his typical "pigs come in groups, tiger walks alone" nonchalance and in these early scenes, you can detect the trademark gravity-defying action sequences that would later become the superstar's best-selling act. Peppered with massy one-liners and a sizzling chemistry with Bachchan, Andhaa Kaanoon was a box-office boffo but didn't exactly speed Rajinikanth towards superstardom in Mumbai. In Hindi cinema, Rajinikanth rarely delivered a hit on his own and was usually a part of a multi-starrer. He even teamed up with Southern peer-cum-foe Kamal Haasan along with Amitabh Bachchan in Geraftaar (1985) and though the film was a success it hardly did anything to further both Rajini and Kamal Haasan's career. Haasan and Rajinikanth's careers intersected in Bollywood in more ways than one, just like back home in Tamil films.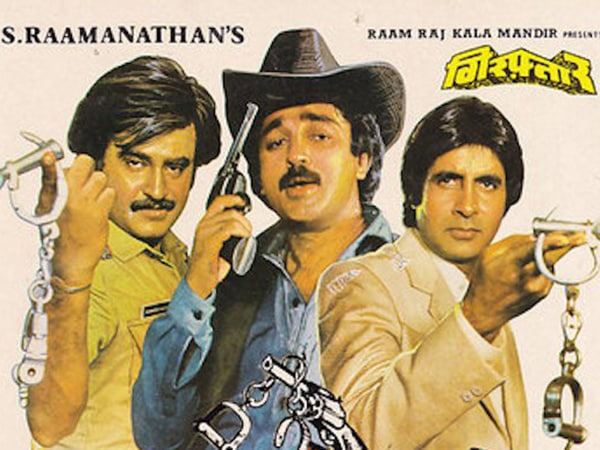 Kamal Haasan made a scintillating debut in Hindi cinema with K. Balachander's Ek Duuje Ke Liye, a Romeo Juliet reworking. Debuting around the same time, both Rajini and Haasan moonlighted in Bollywood with their base in Chennai but big success eluded them. It also looks like they were not in a hurry to settle down in Mumbai. Unlike men, Southern women have been luckier in Bollywood. We have derived some of our best-known heroines from South (Waheeda Rahman, Vyjayanthimala, Hema Malini, Sridevi and Deepika Padukone to name a few) but have failed to embrace the male Southern imports in much the same way. Over the years, besides Rajinikanth and Kamal Haasan, Nagarjuna, Arvind Swamy, Venkatesh, Madhavan and recently, Prithviraj, Dhanush and Ram Charan have tried their luck in Bollywood but failed to create any impact.
One obvious reason for Rajinikanth's fizzling out could be that Mumbai had its own God – Amitabh Bachchan. Besides, he was typecast as a second lead way too early, a jolt from which his Hindi cinema career never recovered. Not to mention, the fierce competition he faced from not only Bachchan, Shatrughan Sinha and Vinod Khanna but also younger and home-grown stars like Govinda and the Khans who were all emerging talents. The Thalaivar worked through the 1980s in films like Bhagwaan Dada and Chaalbaaz, occasionally receiving hero offers in B movies. Once again, Bachchan came to his rescue. The Big B starrer Hum was one of Rajinikanth's last memorable Hindi hits.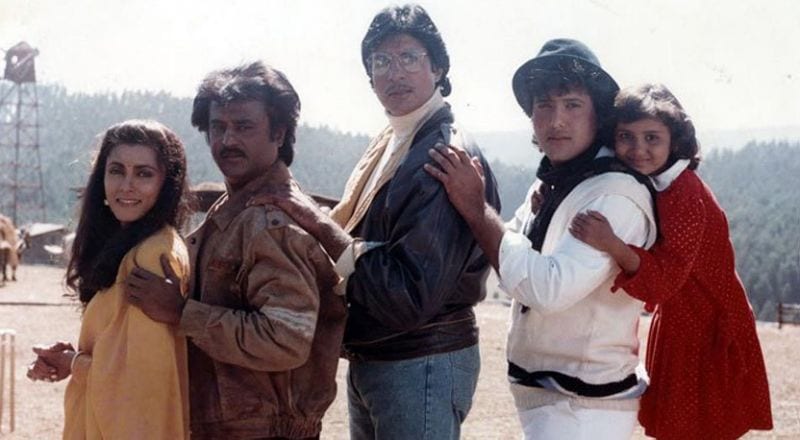 The Bollywood years were not glorious for Rajinikanth but the Bachchan-inspired scripts worked for him in a big way in Kollywood, turning him into a myth. In Bollywood, too, he left behind a formidable legacy. Some years ago, Govinda, who played Rajinikanth's pampered younger brother in Hum, invoked the Thalaivar when turning down the Marathi film Shikshanachya Aaicha Gho. "I don't do art films," he was quoted as saying. "I believe in the Rajinikanth school of entertainment which has no bearing on real life. I like doing films where you can hit your enemy from a foot's distance and still get him flying in the air." Post-Dabangg, Salman Khan was dubbed Bollywood's Rajinikanth, as much for his force of nature on-screen image and manic fandom as for the phenomenal box-office pull and a Robin Hood-esque charm.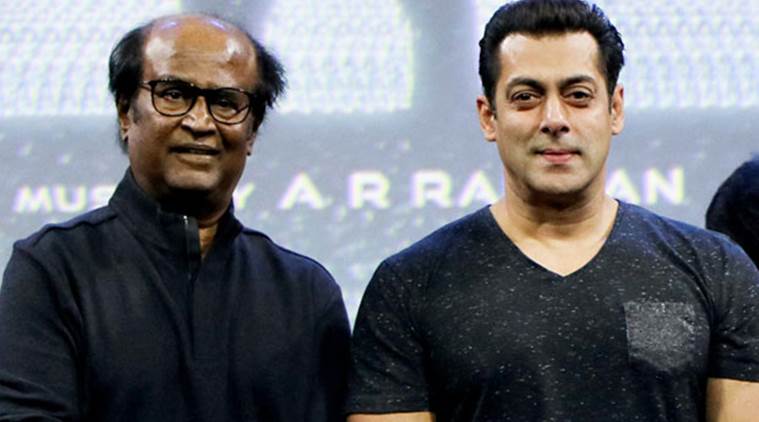 The Boss doesn't need Bollywood anymore but his dubbed Tamil releases never fail to create a stir. In Mumbai, his cut-outs may not be bathed in milk but whenever a new Rajini film is out, jokes about his paranormal popularity always trends. He's still the most famous Tamilian in Mumbai.
(Shaikh Ayaz is a writer and journalist based in Mumbai)