World Menstrual Hygiene Day is being celebrated for the fourth year now on May 28, with more than 400 partner-organisations working towards creating awareness of menstrual hygiene management (MHM) as part of the initiative by WASH United (water, sanitation, hygiene).
In recent years, there has been active effort by individuals and organisations to promote awareness regarding menstrual hygiene through building toilets, providing low cost pads and appropriate disposal facilities to women who previously did not have access to them.
Twinkle Khanna, the producer of the Bollywood release PadMan starring her husband Akshay Kumar, spoke at the Oxford Union recently.
The author turned producer talked why she felt the need to narrate the story of PadMan and highlight the importance of menstrual hygiene to tackle the taboo around periods. Twinkle, who has earlier written the story of entrepreneur Arunachalam Murugunatham, the man behind inventing the machine to produce cheap sanitary pads in her book The Legend of Lakshmi Prasad, also showcased the movie to the students of the Oxford University.
While presenting her argument at the Oxford Union, she said, "I hope this movie (PadMan) becomes a movement where women are no longer held back or shamed by their biological functions."
Padman became the first Indian film that became a topic of discussion at The Oxford Union. Mentioning why she chose to address the stigma around menstrual hygiene in her debut production, Twinkle said, "My primary motivation to make a movie on menstruation was to bring awareness to a subject that so far has been tucked away in shadows and like Voldemort is never mentioned."
Mrs Funnybones also discussed with Nobel Prize laureate Malala Yousafzai why is it important to end the taboo around menstruation. read more here
Akshay Kumar, in an interview to Hindustan Times, spoke about how it is important to initiate a conversation around menstrual health in the public space, irrespective of who got offended.
It's not about being bold, but about breaking taboos that hold us back … it is about education… I do not mind who I offend, or whose stomach I may turn by being so bold publicly. This is not the Stone Age, menstruating is natural. If this film can spread awareness about menstruation and menstrual health, I would say I have succeeded in my task.

–

Akshay Kumar, Actor
A temple where the vagina is honored and celebrated
In India during the period of 22nd June to 26th June the Assamese people celebrate the Ambubachi Mela at the Kamakhya Temple
The mela is believed to be the celebration of the yearly menstruation cycle of Goddess Kamakhya, the most important deity of the Tantric cult.
There is no idol of the Goddess but a stone in the shape of a vagina that is worshipped, over which there flows a natural spring keeping it moist all the time.
What is it about menstruation that makes it such a hush-hush, private affair when we all know that it is just a normal, bodily function that women have to undergo every month? Why are there so many taboos surrounding the menstruating woman? read more here
Sex Drive during menstruation
Periods and pregnancy
The menstrual cycle appears to impact women's sex drives in several ways. Women are supposed to feel the libido strongest during ovulation (which occurs typically two weeks prior to getting the period), as the body gets ready for conception every month.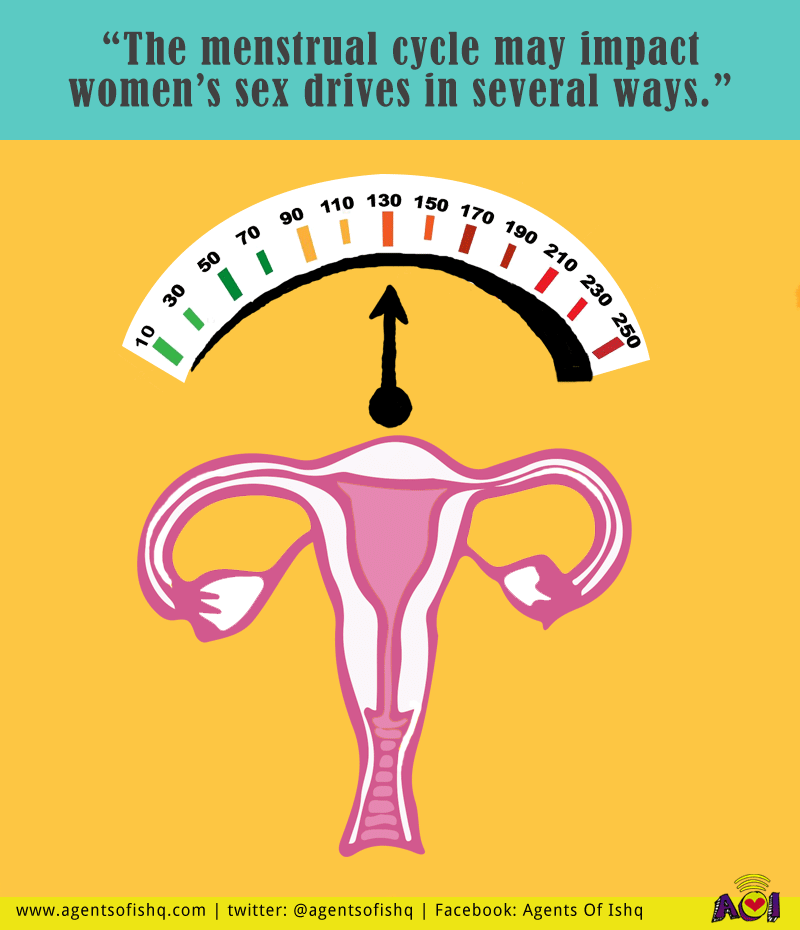 Twenty eight year old musician, Sumuthi P, realised long ago that she wasn't alone in experiencing extreme fluctuations in her sex drive because of her menstrual cycle. She downloaded an app known as a period tracker, which reminds you when you are ovulating, and said it helped her understand why her body demanded sex more at certain times. She even convinced her partner to keep track of her period cycle, which made managing her sudden surge in sex drive during ovulation a lot easier.
There are several factors that could explain why some women want sex during their period.
For instance, vaginal discharge usually increases before the period, and increased wetness could make women feel more aroused. Women have increased levels of a hormone called progesterone (also released during pregnancy) in the run-up to the period, and this can decrease libido, but once the progesterone levels increase after the first day of menstruation, it could mean women feel more inclined towards sex.
During pregnancy, many women say they experience a significant increase in libido in the first two trimesters, but by the third trimester, other bodily changes like weight gain, morning sickness, or physical discomfort may reduce the sex drive for some women.