"Bolo… wapas do, meri jaan." Clad in fiery red, the gangster's mistress tells the man she is in love with, dictating terms of affection he is too scared to say aloud. She does that, all the while pointedly holding a gun at him. The man, the gangster's sidekick, asks her to give it back and then tries to overpower.
She points the gun at the sky and pulls the trigger.
She will not yield till he gives in. And he does. He repeats after her, aping the very tone she desires to be talked to in. And then she laughs, delighted at her own victory, till the man with the bruised ego slaps her right across her face and embraces her.
Maqbool is not only Vishal Bhardwaj's first adaption of a Shakespeare play, but in many ways is the film that shaped the director's oeuvre. 
Macbeth, much like other Shakespearian plays, gives a lot of weightage to the female character. In a play marked by a man's uncontrollable and unrelenting march towards gaining power, it is Lady Macbeth who makes Macbeth aware of what he is capable of and also shows him the means to achieve it – by killing the King, Duncan. In a sharp departure, Bhardwaj's Maqbool is posited in the murky underbelly of Mumbai's underworld. Bhardwaj robs much of Lady Macbeth's agency and legitimacy when he adapts her into Nimmi. A Muslim woman with a shady past, living with the mafia don Abbaji out of wedlock, Nimmi is a far more liminal figure than her literary counterpart. Bhardwaj, quite evidently, renders her even more powerless by placing her outside the domain of marriage. She is the mistress, and in turn a fallen woman.
In the article All the King's men and all the King's women: reading Vishal Bhardwaj's Maqbool as a "creative mistranslation" of Shakespeare's Macbeth, author Subarna Mondal further expounds on Nimmi's marginality. "Nimmi fulfils every requisite of the margin. She is a Muslim woman from Lucknow with a murky past, staying with Abbaji outside the bonds of wedlock, and sharing an illicit relationship with Abbaji's most trusted follower Maqbool," she writes. What she shares with Lady Macbeth is her unequivocal love for Macbeth, in this case Maqbool, and her refusal to stop short of gaining her objective. While fierce ambition goads Lady Macbeth, it is love that propels Nimmi. She cannot stay with the man she is in love with unless Abbaji dies and she convinces Maqbool to stand against the only man he is loyal towards by making him aware of her sexuality.
Maqbool was Vishal Bhardwaj's first adaption of a Shakespeare play. (Source: File Photo)
If Bhardwaj presents Nimmi as a seemingly defenceless woman, he also provides her with an awareness of her sexuality, a rarity in Bollywood. Unlike Lady Macbeth, Nimmi does not consider being a woman or her sexuality as a deterrent. She does not say "Come, you spirits/ That tend on mortal thoughts, unsex me here." Nimmi might suffer a similar fate like Lady Macbeth as she descends into madness, but she stands out as that rare female character, aware of her agency and not hesitating in exercising it to her advantage. Nimmi, in many ways, becomes a template for other Bhardwaj female characters to follow.
Women in Vishal Bhardwaj's films
"Bharadwaj's films are not restricted within a few genres. So the possibilities of portraying certain types and dimensions of characters increases in his films, which he has always explored well," says Anindya Sengupta, Assistant Professor, Department of Film Studies at Jadavpur University. In a career spanning more than a decade and nine feature films, Bhardwaj has dabbled across various genres. He adapted three of Shakespeare tragedies – Maqbool (2003) was an adaption of Macbeth, Omkara (2006) of Othello and Haider (2014)  of Hamlet and also made films with and for children. Ruskin Bond's The Blue Umbrella was made into a film by him and Makdee, his directorial debut, narrated the tale of a young girl and a witch stuck together in a mansion. Much like what Sengupta says, he has rarely stuck to a particular genre even while operating within the paradigm of mainstream Bollywood films. And this non-conformity, Sengupta believes, has enabled him to present women and perhaps even empower them differently than other directors. "He has reconnected popular Hindi cinema with literature and literary classics, which has liberated his imagination further regarding the portrayal of women," Sengupta says.
The world conjured by Bhardwaj is unmistakably male-dominated. Be it Maqbool, Omkara, Kaminey or the more recent Rangoon, the narratives are populated by power-hungry and curiously vulnerable men. Bullets and tempers fly from one wall to another. And yet, standing tall in this world are the women. Sometimes borrowed from Shakespeare, sometimes written by him, they often stand at the heart of the narrative. There is an almost unsettling disquietude about them. They love fiercely and with the same ferocity ensure that they are loved back. They might falter but they seldom surrender. And Bhardwaj does that all the while refraining from naming his films after them or choosing to narrate a female-oriented story. "Bhardwaj's female characters achieve more than those in a film like Veere Di Wedding, which essentially reduces them to caricatures," says Aseem Chhabra, author and film critic. "Bharadwaj's female characters might not be in the screen for a long time, but they are very well fleshed out," Chhabra says, adding how Priyanka Chopra in Kaminey, a story about sibling rivalry, or even Kareena Kapoor and Konkona Sen Sharma in Omkara left indelible mark in spite of their brief roles.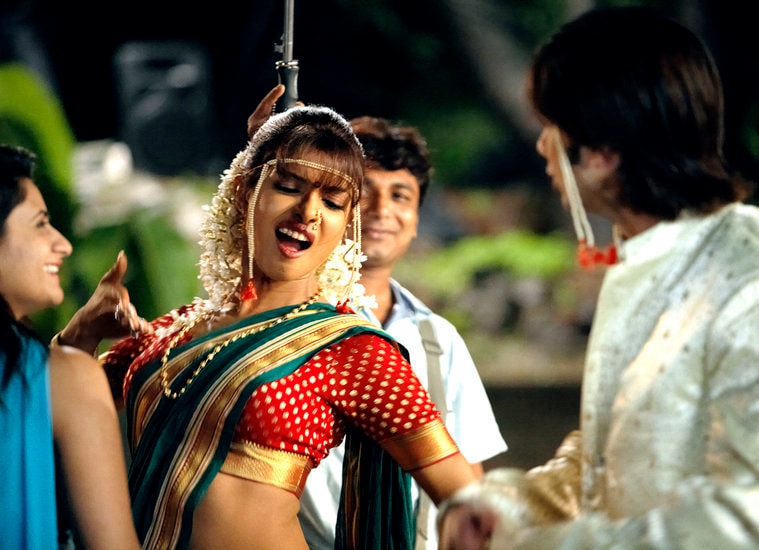 In Kaminey, Priyanka Chopra had a brief but an impactful role. (Source: YouTube)
It is Ghazala in Haider who perhaps equals the screen time and, if one might add, the impact of Nimmi. Based on Hamlet, Bhardwaj places Haider within the turbulence that wrecked Kashmir in 1995. His Hamlet is a student who returns home after the sudden disappearance of his father and his Gertrude, Ghazala, is a woman deeply entangled in tabooed relationships.  A half-widow, she finds solace in the company of Khurram, her brother-in-law and much to the shock of her son, does not exhibit much grief at the sudden disappearance of her husband. Bhardwaj's Ghazala, magnificently portrayed by Tabu, stands out as a deeply tragic character, fated to witnesses her son's contempt towards her and also fated to love him passionately, almost obsessively so.
Ghazala is far removed from the mothers so routinely presented in Bollywood mainstream films. She refuses to grieve for her husband and to take pity of her situation. Seeing through Haider's disgust towards her, Ghazala is also aware that it is only her that he will listen to. It is only Ghazala's love that can incapacitate Haider and so it does, turning his tragedy into that of her own. "Ghazala in Haideris a more powerful, more fleshed-out, more complex character than Shakespeare's Gertrude," Sengupta says. Chhabra echoes Sengupta's opinion. "Ghazala is a magnetic, charming, manipulative woman. She is in love with her son and also other men and Tabu further elevates the role with her stunning performance," he says. In Rangoon, Bharadwaj's latest film, the female protagonist Julia does seem like an atypical Bhardwaj heroine initially. She repeats what is told to her and even obeys orders. But it is towards the end, when she demands love, even without pointing a gun, that she resembles a Nimmi or a Ghazala.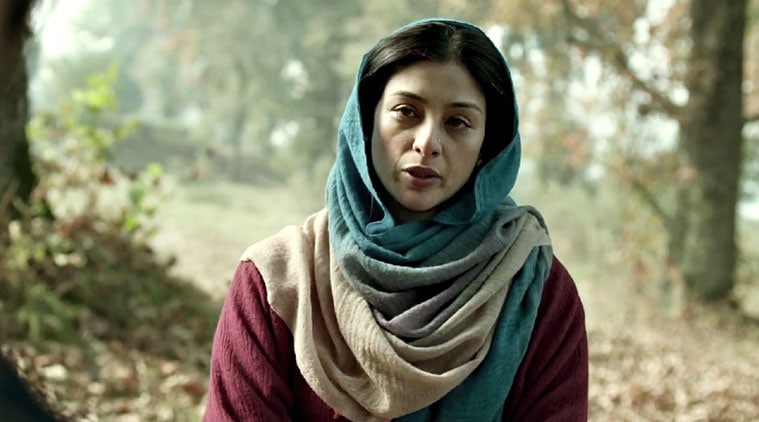 Haider was adapted from Shakespeare's Hamlet. (Source: File Photo)
To give or not to give credit to Bhardwaj
"Bhardwaj has extensively borrowed from Shakespeare, whose world is emotionally complex. Women do play important roles in the plays chosen by the director but Bharadwaj is not inventing these female characters," says Ranjani Mazumdar, Professor of Cinema Studies, School of Arts and Aesthetics at Jawaharlal Nehru University. "Bhardwaj adapts Shakespeare's plays in the gangster world and by virtue of this his female characters become interesting," Mazumdar adds. One cannot really dismiss what Mazumdar says. Saat Khoon Maaf, perhaps the only 'female-oriented film' directed by Bhardwaj, and not adapted from a Shakespeare play, remains one of his most unsuccessful, panned by both critics and audience alike. It remains unclear of how much of the credit Bhardwaj really deserves— whether he has simply been clever in his choice or he has a definite agenda in presenting women the way he does.
It is, however, not commonplace for a woman to look at a man she loves, demurely and defiantly and inform him that she has twelve moles in her body and then entreat him, tease him even, to see each one of them. Nimmi does.
Bhardwaj might not have deliberately presented empowered women, but he has definitely chosen to arm his female characters with an explosiveness that threatens to destabilise and even wreck the very world they are situated in if things do not go their way.