His politics, behaviour and judgment were often suspect, but it's difficult to fault VS Naipaul's writing. The Nobel Laureate passed away on Saturday (August 11) at the of 85.
Known for his acerbic, scathing remarks, Naipaul faced both admiration and contempt from his fellow peers. Naipaul was a writer with no fixed roots. He was a Trinidadian by birth, an Indian by descent and in terms of citizenship he was British. Through his writings, he attempted to re-visit each of these places, but much like everything else, they did not escape his bitter criticism. He did not like the places anymore.
Several of his books are based in post-colonial societies and through his writing, he investigates the quotidian life and also presents a gloomy picture of the world they reside in. He had also not tried to hide his skepticism regarding revolution and social upheavals at a time when people were ushering in the age without the dominant rule of the empire. In his book, India: A Million Mutinies Now, the Nobel Laureate wrote about how Independence affected people in India.
"Independence was worked for by people more or less at the top; the freedom it brought has worked its way down. People everywhere have ideas now of who they are and what they owe themselves. The process quickened with the economic development that came after independence; what was hidden in 1962, or not easy to see, what perhaps was only in a state of becoming, has become clearer. The liberation of spirit that has come to India could not come as release alone. In India, with its layer below layer of distress and cruelty, it had to come as disturbance. It had to come as rage and revolt. India was now a country of a million little mutinies."
Naipaul's writing can both infuriate and dazzle, but it is difficult to not acknowledge his brilliance.
Here are some of his most celebrated works.
A House for Mr Biswas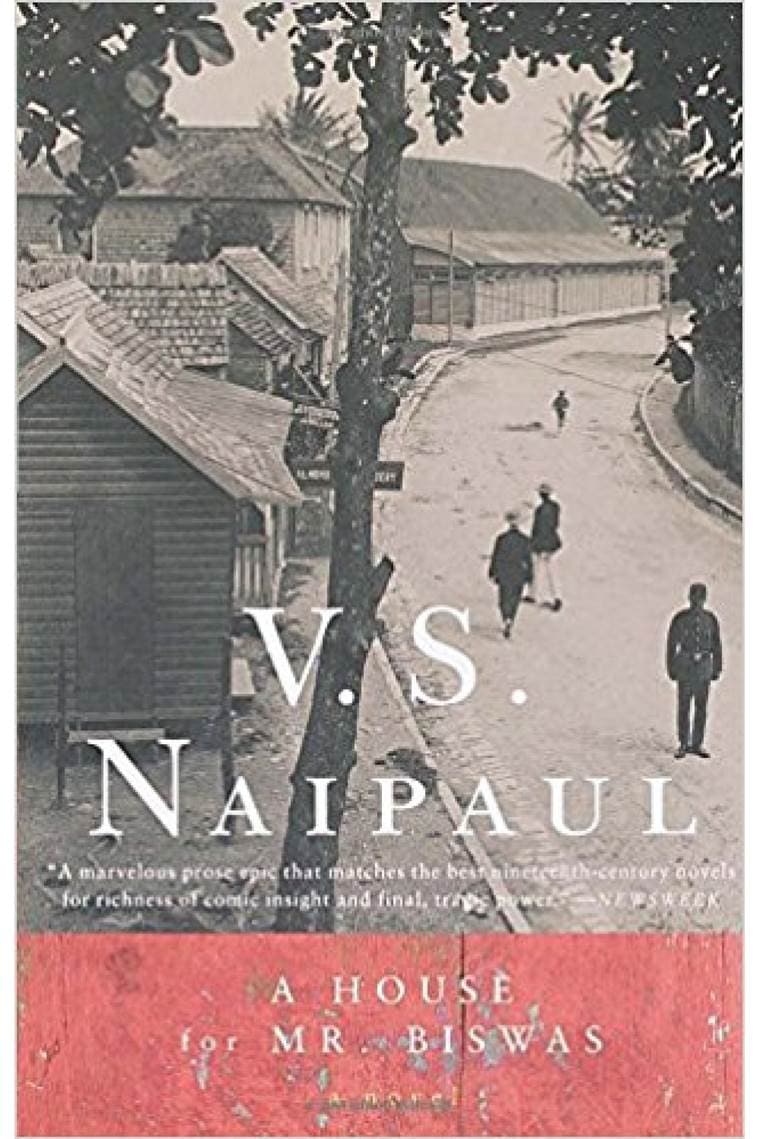 A House for Mr Biswas remains one of Naipaul's most endearing work. (Source: Amazon.in)
Published in 1961, A House for Mr Biswas is one of Naipaul's most enduring works and one that catapulted him to worldwide fame. The novel narrates the compelling story of an Indo-Trinidadian, Mohun Biswas, his struggle to gain success, to find a house of his own and the failure he meets with. Through the life of the protagonist, Naipaul trains his lens to see a colonial world that by them had ceased to exist.
Guerrillas
The island in Guerrillas, though unnamed, closely resembles Naipaul's own birthplace.
This 1975 novel is situated in a Caribbean island filled with people with different ethnicities but ruled by the post-colonial British. Although the name of the island is never mentioned, it is situated in familiar ground. It is an island Naipaul has written about over and over again, one that closely resembles his own birthplace. Paul Theroux in New York Times Book Review described Guerrillas as "one of Naipaul's most complex books", "a violent book in which little violence is explicit; and it is the opposite of anonymous." Theroux then went to write that this might startle Naipaul's readers "It may surprise the casual readers of Naipaul's work, those who regret the absence of calypso in his West Indian books," he wrote.
The Middle Passage
The Middle Passage marked Naipaul's initiation into the genre of travel writing.
This 1962 travelogue was born out of his return to the Caribbean after Naipaul received fellowship from the Government of Trinidad and Tobago. The book documents his experiences in five Caribbean territories and also records his commentary on slavery, the role South Asian immigrants played in the various countries, and also dealt with the question of culture, race and colonialism. The book served as a important role in his literary career as it marked his initiation into the genre of travel writing.
In a Free State
Naipaul had won the Booker Prize for his 1971 novel, In A Free State.
The 1971 novel won Naipaul the Booker Prize and remains one of his most staggering work.  It includes two stories which the author calls the "supporting narratives", the eponymous novel, and the prologue and an epilogue borrowed from his own journals. These four narratives are bound by the common theme of displacement.
A Bend in the River
A Bend in the River published in 1979 remains one of Naipaul's most celebrated works.
One of his most celebrated works, A Bend in the River was published in 1979. It narrates the tale of a unnamed merchant, Salim, who is posited in the post-colonial Africa and views the changes the place is going through with a detached perspective. The novel has been compared to Joseph Conrad's Heart of Darknessowing to its depiction of Africa.