BREAKING NEWS
The centre has decided to accept foreign aid and humanitarian assistance being offered for Kerala floods, sources have told NDTV.

However, sources say no country has so far offered aid formally.
Sources say the government has decided to accept the assistance subject to various norms and procedures.
Even as the UAE has offered Rs 700 crore as flood relief for Kerala, the Indian government is going by the disaster aid policy set in December 2004 by then Prime Minister Manmohan Singh.
Until then, India had accepted aid from foreign governments. The government had accepted aid for the Uttarkashi earthquake (1991), Latur earthquake (1993), Gujarat earthquake (2001), Bengal cyclone (2002) and Bihar floods (July 2004).
With the central government hesitant to accept the offer of Rs 700 crore made by the crown prince of Abu Dhabi for relief and rehabilitation works in Kerala, Chief Minister Pinarayi Vijayan said that UAE "cannot be considered as any other nation" as "Indians, especially Keralites, have contributed immensely in their nation building."
"As I understand, UAE on its own has proposed this aid. UAE cannot be considered as any other nation, as their rulers have underlined. Indians, especially Keralites have contributed immensely in their nation building," Vijayan told The Indian Express in an interview.
Sheikh Mohammed Bin Zayed Al Nahyan, the crown prince of Abu Dhabi had telephoned Prime Minister Narendra Modi and made the offer of assistance, the Chief Minister had said earlier.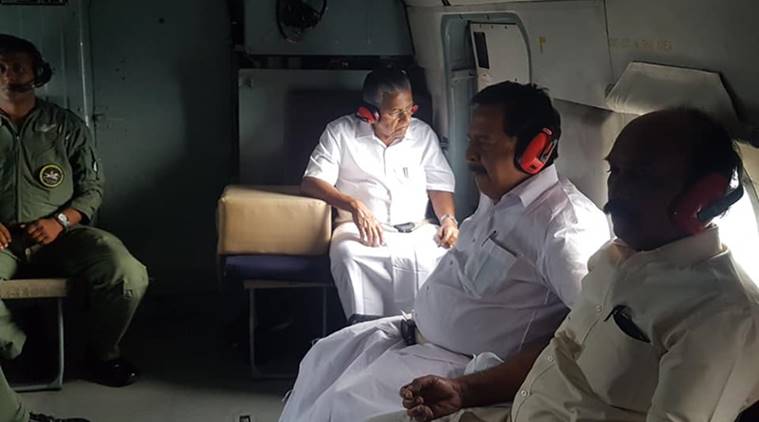 India has been turning down assistance from foreign governments since 2004.
Sources said there are two reasons for such a policy: "Firstly, the governments since then have felt that India has the capacity to handle disasters like these. And secondly, accepting from any one government opens the floodgates for others as well, and it would be diplomatically difficult to refuse from some while accepting from others," the source said. It also signalled India's economic clout as it has become an aid donor.
However, this policy is limited to foreign governments, and does not extend to individuals and charity organisations. "It is not possible to curtail aid from NRIs in foreign countries or NGOs working in the disaster management sector. Their funds can be accepted through the remittance route," the source said. So, that has led to India to not accept Rs 700 crore from the UAE or Rs 35 lakh from Maldives.
In the past 14 years, India has refused aid from Russia, US and Japan for Uttarakhand floods in 2013, and for the Kashmir earthquake in 2005 and floods in Kashmir in 2014. "As a general policy, in case of rescue and relief operations, we have followed the practice that we have adequate ability to respond to emergency requirements," a senior Indian official told The Indian Express.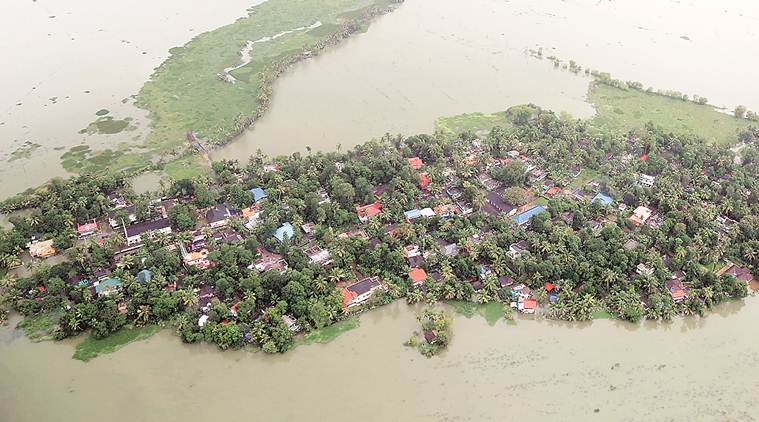 Submerged houses in Kerala. (Reuters Photo)
The government has a standard template to respond to any offer of assistance, as has been circulated to all Indian embassies across the world. "The Indian diplomats are expected to express gratitude to foreign government officials and diplomats for their sentiments and offer, but are to be politely told that the government has no requirement as of now, but will let them know – if and when the need arises," the Indian official said.
Kerala Finance Minister Thomas Isaac was quoted as saying that the Centre's financial package for Kerala could fall far below what was required, so it should not deny others a chance to help the state after it was ravaged by torrential rains and flash floods.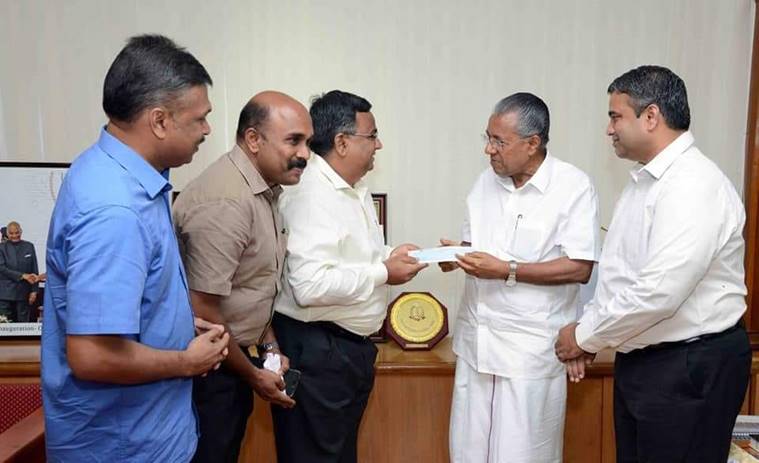 TVS & Sons CEO handed over a cheque worth Rs 1 crore to Kerala CM Pinarayi Vijayan.
However, Chief Minister Vijayan said, "I do not intend to enter into any politics over it. Let's study and understand the nuances."
Asked if he would take up the matter with the Prime Minister, Vijayan said: "Let's see."
In the interview, Vijayan also said that his government, which has completed the rescue works, would be setting the stage for building a new Kerala, instead of rebuilding the state.
"We intend to have the rehabilitation not as a work to place the former structures there. That's why I said, instead of rebuilding we should focus on building a new Kerala. We will have comprehensive planning, we will bring expertise from different nooks and corners, and a concrete plan will be executed," he said.