Ajay Devgn is usually a very cool, calm and composed person, especially off the camera and you'd least expect him to play a prank especially on Kajol.
But not many are aware of the fact that the actor is one of the biggest pranksters on the sets of a film. Looks like Ajay Devgn decided to put his wife Kajol in a fix with what seems to be his latest prank.
What happened was, Ajay Devgn tweeted out Kajol's Whatsapp contact number on his Twitter account. He wrote, "Kajol not in country..co-ordinate with her on WhatsApp" followed by what appears to be the contact number of the actress. 
Bas! Fir kya tha! The Twitterati got some amazing masaala to play around with for the day. No sooner did Ajay share the credentials, the tweet went viral, creating a frenzy of sorts among the Twitterati. Netizens started flooding Kajol's alleged WhatsApp number with messages. Some of them even shared screenshots of the messages they sent on the number, in the comments section of Ajay's tweet. 
There are others, who simply wanted a discount on paan masala, while others advised Ajay Devgn to refrain from having too much of paan masaala since it's injurious to health and may lead to actions such as these. 
Check out some of the hilarious reactions here: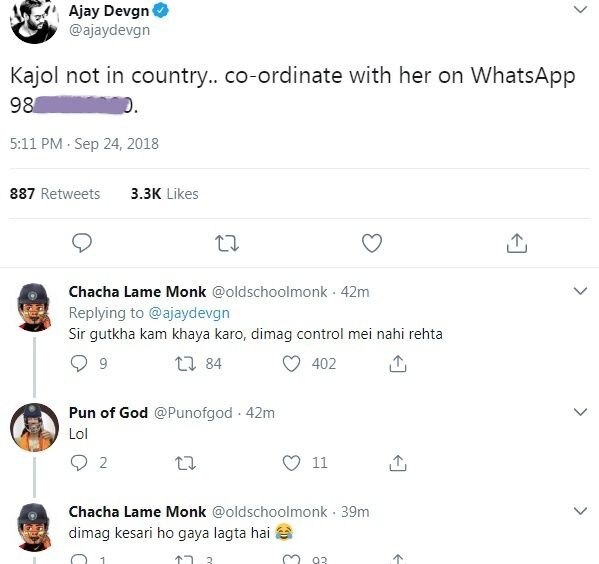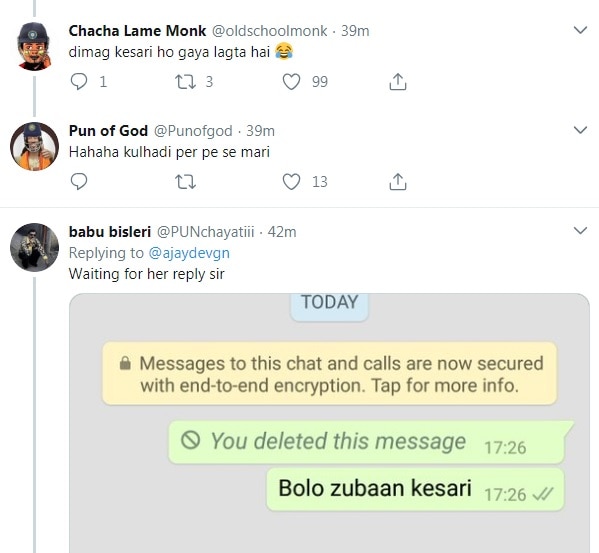 While it hasn't been confirmed whether the tweet was actually shared byAjay Devgn, or if his Twitter account has been hacked. Some even suggest that this may be a publicity gimmick.