One of the most celebrated festivals among married Indian women, Karva Chauth, falls on the fourth day of the Kartik month in the luni-solar calendar.
Young and married women spend the entire day without food and water to pray for the safety and long life of their better half, fiancé or desired husband. The rigorous day-long fast is broken in the evening with several scrumptious delicacies that are laid down after the moon rises.
Malpua by Hebbar's Kitchen
Malpua is the most important delicacy of Karva Chauth festival. (Source: YouTube/Hebbar's Kitchen)
Ingredients
For malpua
1 cup – Maida / plain flour / all purpose flour
½ cup – Rava / semolina / bombay rava / sooji
¼ cup – Sugar
½ tsp – Fennel / saunf powdered
¼ tsp – Cardamom powder / elachi powder
½ cup – Milk / rabri
Water as required to prepare batter
Oil for deep frying
Rabri for serving
Dry fruits for garnishing
For sugar syrup
1 cup – Sugar
½ cup – Water
¼ tsp – Cardamom powder / elachi powder
Few threads of saffron
Note: 1 cup = 255 ml
Method
* In a large mixing bowl, take maida, rava, and sugar and add fennel powder and cardamom powder.
* Add milk or rabri and mix well making sure there are no lumps in the batter. Add water if required. Make sure the batter is of smooth pouring consistency
* Further whisk the batter for at least 5 minutes. Cover and let it rest for 30 minutes.
* Pour a few spoonful of the batter into hot oil/ghee.
* Once the malpua starts to float, splash oil over it. Also press gently with the help of a perforated spoon. The malpuas will puff up like pooris
* Now fry both sides till they turn golden brown.
* Drain the malpuas onto a kitchen towel to remove excess oil.
* Now soak the malpuas into the hot sugar syrup.
* Rest for 10 minutes making sure both the sides of malpua are soaked well.
* Serve them hot with rabri.
Moong Dal Gulgule Curry by Swaad Anusaar
Break your fast with this spicy and scrumptious curry this Karva Chauth. (Source: YouTube/Swaad Anusaar)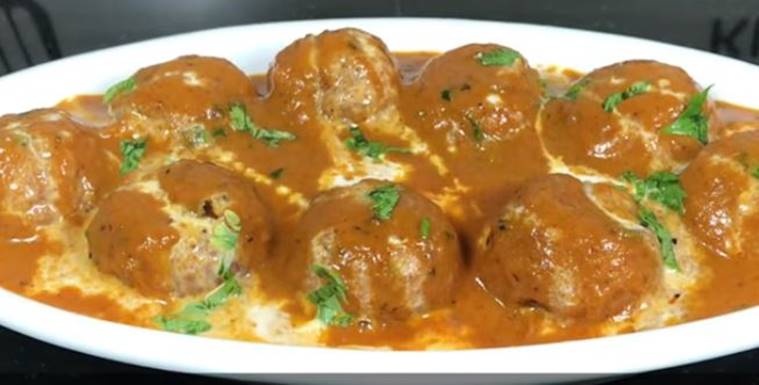 Ingredients
For Gulgule:
1/2 cup – Soaked moong dal
1-3 – Green Chilies
1/ tsp – Water
1/ tsp – Salt
Caraway seeds
Oil as required
For the gravy:
4 – Tomatoes
Ginger
1/2 tsp – Red chili powder
Approximately 1 litre water for the gravy
1/2 tsp – Sugar
1 cup – Milk
Method
* Heat a wok, add oil and let it heat.
* In a mixer jar, add soaked moong dal, green chilies and grind it for few seconds.
* Add water to the dal and grind it again to a paste-like consistency.
* Once you're done grinding, transfer it to a bowl and add salt and caraway seeds.
* Mix them well. Make rounds of the batter and leave it inside the hot oil.
* Fry them nicely, until they're golden brown in colour. Once they are done take them out on a plate.
* In a jar, add tomatoes and grind them.
* In a vessel, heat oil and add caraway seeds, ginger.
* Fry them nicely until the raw smell goes away. Add the tomato puree, salt, red chili powder, and water.
* After adding the water, give it 2-3 boils on high flame – the gravy is ready.
* After you are done cooking it, add milk and keep stirring. You can serve the curry with gulgule in it.
* Garnish it with coriander.
Seviyan Kheer by Ruchkar Mejwani
Seviyan Kheer forms a part of Sargi of Karva Chauth fast. (Source: YouTube/Ruchkar Mejwani)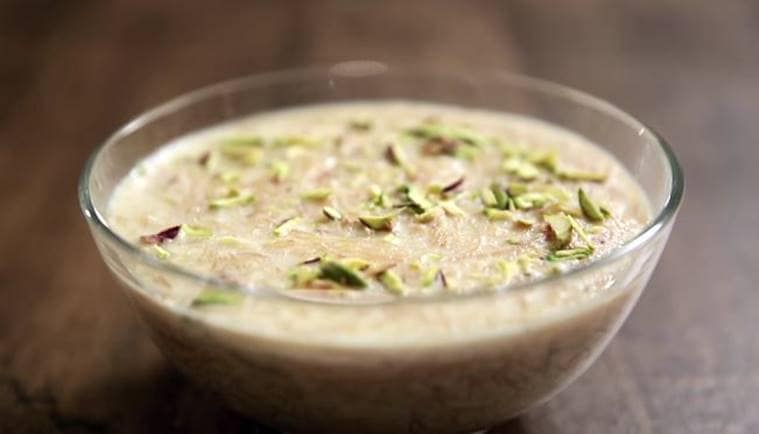 Ingredients
2 tbsp – Ghee
1 Cup – Vermicelli
1 Litre – Milk
1 Cup – Sugar
1 tsp – Cardamom Powder
Raisins
Method
* In a pan, heat some ghee. Add the vermicelli and roast it well. Then add raisins and dry fruits and mix everything well.
* Add milk and mix it well. Let it boil completely. Then add sugar, keep stirring
* Add cardamom powder and keep stirring.
* Let the kheer boil till it becomes a little thick.
* Garnish it with dry fruits and serve.
Which dish would you like to try out this Karva Chauth? Do tell us in the comment section below.