Have you ever wondered why your baby is constantly crying on a plane, while trying in vain to pacify him or her?
Travelling on a flight with a baby is not an easy task, not to mention how uncomfortable it makes you and your fellow passengers in case your baby is crying. So, we bring you six ways in which you attempt to soothe a crying baby on a flight:
Identify the reason
Unlike you, your baby is yet to become accustomed to travelling by flight. Feeling caged in an aircraft at a height of nearly 36,000ft can cause discomfort to your baby, which is why he or she may start crying. Parents need to first identify the reason their baby is crying in air-discomfort, hunger, anger or plain boredom-and take measures accordingly.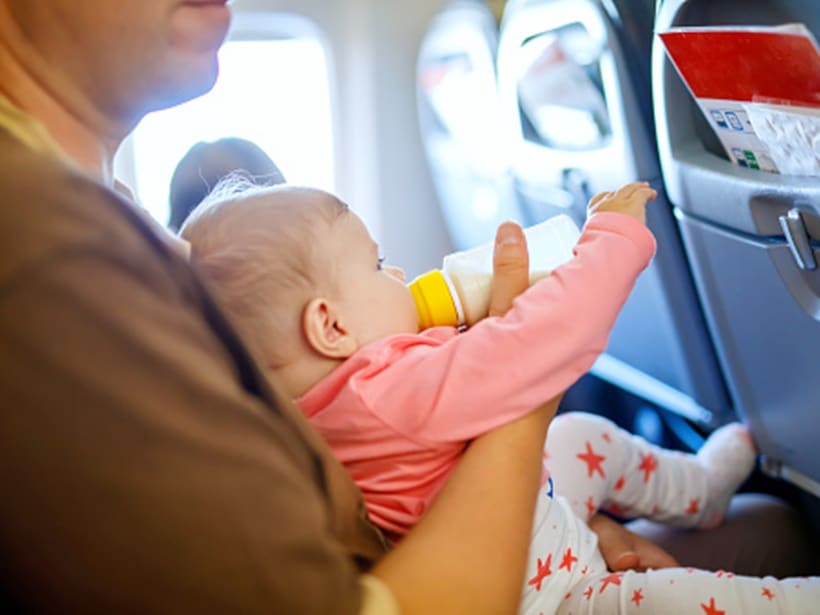 Feed during takeoff and landing
If your baby starts crying while takeoff or landing, it could perhaps be because of ear congestion. To avoid this, breastfeeding or bottle-feeding is recommended by several airlines to soothe a crying baby. That's because feeding helps in relieving ear pain caused by the cabin pressure.
Distract your child with toys
One of the best ways to stop your child from crying is to engage him or her in some activity. Give the baby his or her favourite toys, show him or her a video on your mobile phone or laptop or draw attention to the view outside the window.
Bounce your baby or walk down the aisle
If your baby still continues to cry incessantly, try bouncing him or her up and down only after the seatbelt sign goes off, rock the baby in your arms or walk up and down the aisle for a while.
Carry enough clothes and diapers
A baby tends to feel more irritable when he or she is hungry or faces some physical discomfort. Many airplanes have diaper changing tables in lavatories, so make sure you are carrying enough diapers and wet wipes. Don't forget to pack some extra clothes and medicines in case an unexpected illness befalls your child, which could also be one of the reasons your child may start crying.
Keep calm
Needless to mention, a crying baby tends to irritate or cause discomfort to fellow passengers. But worrying about that will only add to your own stress. So, stay calm if your baby is crying and don't worry about the rest. The more stressed you are, the more difficult it would be to soothe your crying baby.