#KARNATAKA: Educational institutions have been upping their game to prevent students from copying and resorting to unfair means while taking an exam.
From diligently checking the students for chits to checking student's ears for Bluetooth devices, teachers have done it all.
Very recently, a school in Mexico went too far and made the students wear cardboard boxes on top of their heads to prevent them from cheating. Well, looks like this private college in Karnataka took inspiration from it and made the students do the same during an exam.
According to TOI, the incident came to light after the pictures of the students with their heads covered with cardboard boxes were shared on social media. However, the bizarre way of stopping malpractices didn't go well with the state's education department who reportedly issued a notice to the school.
SC Peerjade, deputy director, PU Board said, "This is inhuman and civilised society will never accept such an idea. I hope this is never repeated again."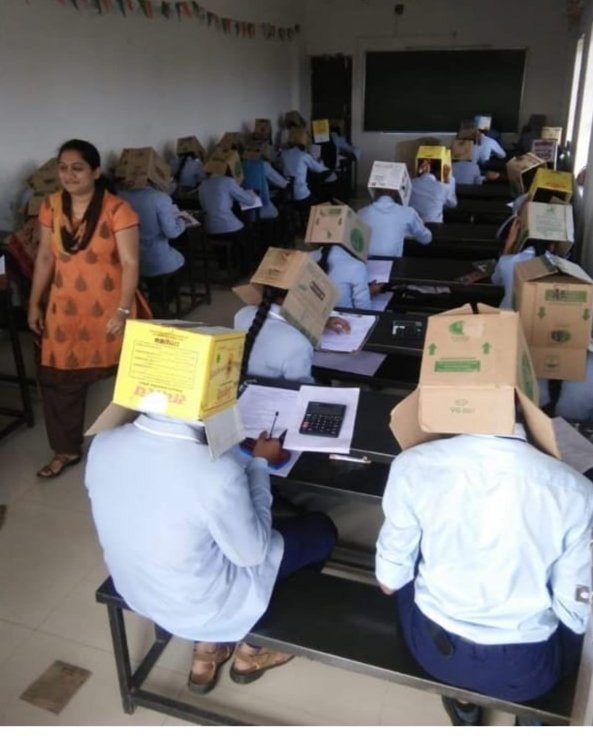 Peerjade further added that the college can use 'traditional ways' to prevent cheating and malpractice in the examination hall. "There are traditional ways of managing students and preventing malpractice in the examination hall and the college can resort to them." He also advised students to 'alert the department in case any such incidents happen again'.
However, the director of Bhagath PU College, MB Sateesh said that it was done with the students' consent. "We implemented this idea to curb malpractice and not to harass students. This is just an experiment. We discussed it with students and took their consent before implementing it."
What do you think of this controversial way of preventing students from cheating? Tell us.