The brutal rape and murder of the Hyderabad veterinarian shook Indian citizens and the world to the core. The incident has led to massive outrage with people protesting and demanding immediate conviction of the accused. Amidst such a severe hue and cry over the matter, South Indian filmmaker Shravan Daniel posted a list of things a woman should do (as per him) if raped.
In the highly misogynist and insensitive post, the filmmaker suggested women carry condoms and offer them to the rapist to avoid getting murdered. He also said that during rape a woman should cooperate with the rapist and fulfill his sexual desires.
In the now-deleted post, the filmmaker asked to legalize non-violent rape for the 'safety' of the victim. Moreover, he also blamed society and women organizations as culprits behind the cruel deaths of rape victims, reports News 18.
"The agenda of rape is fulfilling the sexual needs of rapists based on that time or mood. If these adamant bitches didn't consent to the proposal made by the rapists, they will have no other way but to rape them," the filmmaker said in his Facebook post, reports India Today.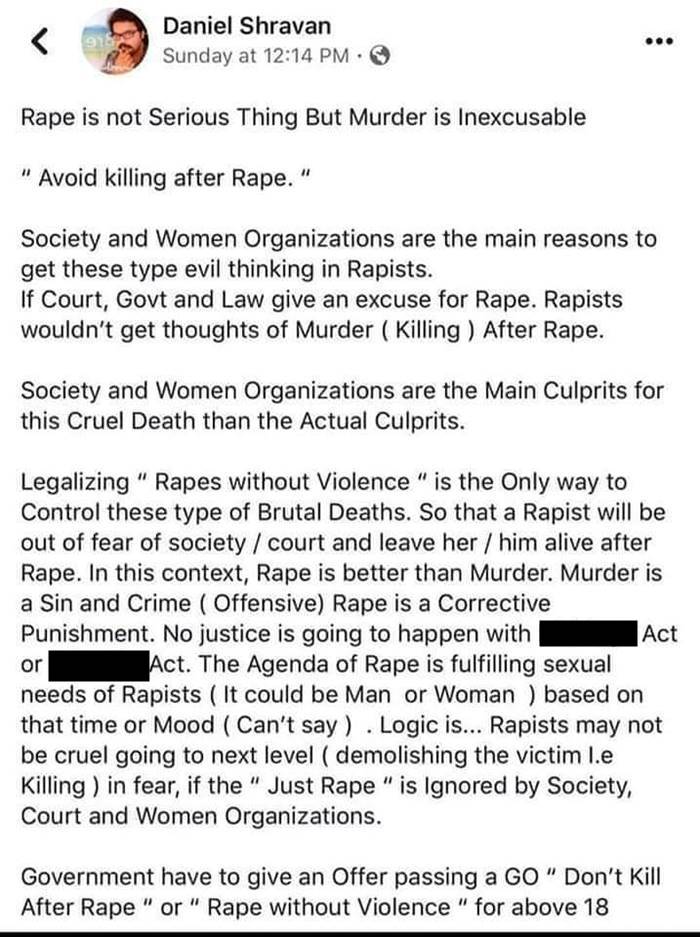 The screenshots of the post soon went viral on social media. They were obviously, bombarded with immense backlash from the people all over the world. Noted singer Chinmayi Sripada too came forward to bash Shravan for his blasphemy.
On the other hand, the filmmaker allegedly later clarified that these statements were just a few dialogues from his upcoming film in another FB post. And this made people on Twitter feel even sicker!
It's high time people start taking rape as an unforgivable crime and stop victim-blaming!