As the Indian film industry trembles with accusations of nepotism, Kangana Ranaut stands in solidarity with Rajput fans. His friends, fans and colleagues of the Bollywood film industry participated part in a virtual candle march, reports India TV.
Bollywood actor Kangana Ranaut, Ankita Lokhande, Shekhar Suman among others lit candles and posted its picture on social media with #Candle4SSR. Taking to Twitter, Kangana Ranaut also said that Rajput's memory will remain alive through efforts of his fanbase.
We will make sure your name shines like a star in the sky forever, millions of candles of your name were burning last night, we won't let them dismiss you as mad or a weak life, you will continue to spread your lovely light, we promise you

Kangana Ranaut, Twitter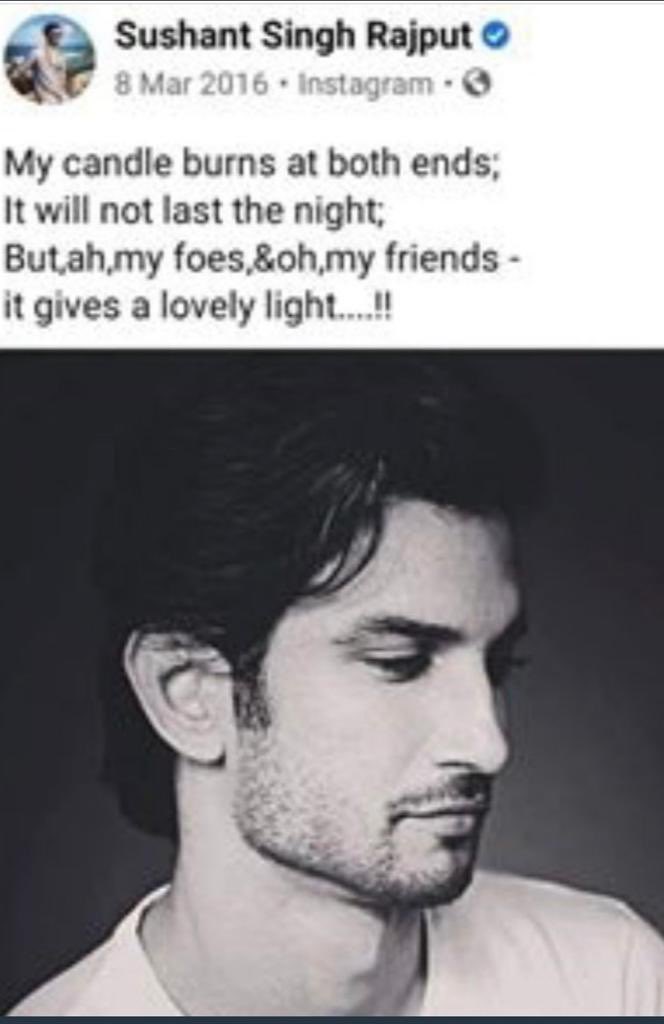 Originally tweeted by Team Kangana Ranaut (@KanganaTeam) on July 23, 2020.
Taking to social media platform, Instagram, Ranaut shared a picture of herself with a candle burning for Sushant Singh Rajput.
Other leading actors from the Indian film industry also joined in support, by lighting a candle in the memory the late actor Sushant Singh Rajput.
As the investigation into the circumstances of Sushant Singh Rajput's death continues, Mumbai police have now taken the statements of three psychiatrists and a psychotherapist, news agency ANI quoted the DCP as saying.
"Bandra police has recorded statements of three psychiatrists and one psychotherapist in connection with Sushant Singh Rajput death case", said Abhishek Trimukhe, DCP Zone 9, Mumbai. At current, the police have recorded over 35 statements from people related to Rajput.
The team of Dil Bechara got together on Wednesday, 23 July for a musical tribute to late actor Sushant Singh Rajput. The album, composed by AR Rahman, consists of tracks that are hopeful but also carry a sense of melancholy. The movie 'Dil Bechara', stars the late actor, Sushant Singh Rajput and Sanjana Sanghi, is based on the John Green novel The Fault in Our Stars. The book was earlier adapted into a Hollywood movie of the same name in 2014. Dil Bechara starring Sanjana Sanghi and the late Sushant Singh Rajput releases on the streaming platform Disney+Hotstar on 24 July.
📣 Follow Indian Spice on Twitter, Instagram, Facebook, Telegram, TikTok and on YouTube, and stay updated with the latest South African Indian news and international Indian news.
Have you checked out our Mental Health resources by Indian Spice click here
The South African Depression And Anxiety Group (SADAG) is Africa's largest mental health support and advocacy group open 7 days a week from 8am – 8pm. If you are needing a referral to a psychologist, psychiatrist or support group call SADAG on 011 234 4837 or 0800 20 50 26 and speak to a trained counselor who can assist you further. Substance abuse hotline: 0800 12 13 14 is available 24hrs or alternatively email Zane on zane@sadag.org
If you need support or know someone who does, please reach out to your nearest mental health specialist. India Helplines: Aasra: 022 2754 6669; Sneha India Foundation: +914424640050 and Sanjivini: 011-24311918
Stay at home if you feel unwell. If you have a fever, cough and difficulty breathing, seek medical attention and call in advance. Follow the directions of your local health authority during the coronavirus crisis.
Connect with the Coronavirus Whatsapp services below
Coronavirus India Whatsapp tap here
Coronavirus South Africa Whatsapp tap here
SA Hotline Number: 0800 029 999
For more related coronavirus (COVID-19) latest news and stories click here